Watch video
NOTE: The Watermark will not show on the actual painting.
Painting close-ups, our actual reproduction:
Unframed
Arrives rolled (Can easily be stretched or framed locally)
Arrives Framed
(Arrives ready to hang, or framed locally)
FRAMING INFORMATION
1st Art Gallery offers the option to receive your painting ready to hang or rolled in a tube.
Currently, for safety, we're able to ship framed paintings only up to a certain size. Once the maximum size is reached, the framing option is automatically disabled.
However, if you are interested in stretching or framing a painting larger than 24x36 inches (60x90 cm), please contact one of our customer success associates or let us know in your order notes. We will send you a catalog of our large framing styles and pricing options.
Unframed rolled canvas orders will arrive rolled inside a protective tube with an extra 1.5" white canvas on all sides so you can easily frame it locally.
Watch this unboxing video from one of our happy clients:
618
Said Hokusai: "What really motivated the development of my artistic style was the embarrassment I suffered at Shunkō's hands." Shunkō being the head of the studio where Hokusai had dedicating himself for a decade learning to master painting using woodblock prints in the ukiyo-e ink style. Hokusai went on to be one of Japan's most well-known artists.
After being expelled from his school, Hokusai changed the subject of his work from actors and theater subjects--as required by the Shunkō studio--and began to focus more on landscapes and capturing images of daily life in Japan. Hokusai painted The Great Wave of Off Kanazawa as one of a series of woodblock prints made during a 1831 tour around the mountain, "Thirty-six Views of Mount Fuji." The iconic great wave is one of the most recognizable of any Japanese works of art or any work of art in the world.
Hokusai painted for over 70 years, and his imaginative style extends well beyond the wave.
Typical for artists of his time, Katsushika Hokusai used over thirty different names during his career, each one to signify a new phase. Hokusai is the most well used of his names and the one he used at the time of creating The Dream of the Fisherman's Wife.
The Dream of the Fisherman's Wife is a Japanese woodblock print, crafted in 1814, during the Edo period. The dimensions are 19 cm x 27 cm, 7.4 inches by 10.5 inches, and is made of two facing pages of an open book, printed on paper. The original artwork is held in the British Library in London. In 2014, The Guardian named The Dream of the Fisherman's Wife one of the top ten sexiest works of art ever.
The woodblock print was originally made for a three-volume book of Japanese erotica, or shunga entitled Kinoe no Komatsu, Pine Seedlings. Each volume of the set starts by showing a woman, after which are seven double-page illustrations of couples, closing with a close up of the genitals of the woman introduced on the first page. The Dream of the Fisherman's Wife appears about halfway through volume three.
The original Japanese title given by Hokusai is The Octopus and the Shell Diver, Ako to Ama. This title shows that the woman has agency rather than referring to her fisherman husband, who is not present. The Dream of the Fisherman's Wife is the title most often used in English.
Using a theme popular in the Japanese art of the time, a large an octopus performs oral sex on an ecstatic woman, wrapping her pale nude body in its tentacles. Another smaller octopus probes her mouth with its beak. The bright colors and the sense of volume of the creatures and woman vividly bring the scene to life. Positioned between two seaweed covered rocks, all the action takes place in the immediate foreground. The color scheme is black, pink, yellow and green. Japanese calligraphy fills the negative space of the background.
The Dream of the Fisherman's Wife is a testament to female sexual power, the woman depicted is engaging with the octopus under her agency and is enjoying herself maybe more than her cephalopod partner. Other works of this period show erotic relations between a woman and an octopus. Small Japanese carvings, measuring just a few inches high, depict humans having sex with sea life. These carvings, netsuke, have existed since the 17th century. Hokusai did not invent the motif of humans-sea creature sex, but his is the most famous.
The calligraphy in the background reads, in part, "My wish comes true at last…" says the octopus. In the text, the maiden and the octopus further express their mutual pleasure.
At the time the artwork was made, contemporary viewers would have known immediately who this illustration depicts. The image would have been recognized from the well-known story of Princess Tamatori, a shell diver (named in the original title) married to a man who is searching for a pearl stolen from his family. The pearl has been hidden by Ryujin, the dragon god of the sea. Tamatori pledges to help her husband and fearlessly swims to the dragon's undersea palace. There she confronts the dragon and his army of sea creatures. Tamatori finds the hidden pearl, slices open her breast and places the jewel inside. She quickly swims away and escapes the chasing army of creatures.
For those in the West, representations of a human engaging in sex with an octopus would be seen as pornographic. The James Bond movie title Octopussy was barely approved by censors. At the beginning of the movie Henry and June, the character of Anais Nin holds in her hands and gazes at The Dream of the Fisherman's Wife in a postcard reproduction—just that was enough to for the film to be rated NC-17, the first such a rating in film history.
Erotic art as a genre has never been mainstream in European art, and certainly not in the U.S. with its puritanical origins. But in Japan, all the major artists of the 17th and 18th century depicted sexual intercourse. These were not hidden works created for a small audience. Women and men of all ages and classes enjoyed them. Japanese brides were traditionally presented with ukiyo-e art, graphically illustrated erotic scenes. Shunga may have even been considered easy-to-follow sex guides for the uninitiated. Thousands of books with shunga were published; erotic images were not considered offensive in any way and were almost as numerous as landscapes, kabuki actors or adorable animals.
When Hokusai created The Dream of the Fisherman's Wife, images of erotic subjects were used as a talisman for good luck. Copies were tucked into a samurai's armor to give him strength and prevent death. Merchants hung them in their warehouses to prevent bad luck. Shunga might originally be painted to instruct or to bring luck, but primarily, for Japanese people of the time, they were simply meant to be enjoyed by adults of all ages in a sort of ribald way.
Shunga was part of the artistic mainstream of Japan, sex being part of the natural world. In Japan, it has been very influential and has ushered in a whole sub-genre within anime and manga. Tentacle erotica as a motif has been popular in modern Japanese manga for the last half of the 20th century.
Hokusai retrospectives seem to be annual events now. American and French audiences continue to carry on their intense over-a-century-long love affair with Hokusai. In 2014 they waited in line for hours for the show at the Grand Palais in Paris. Big exhibits of his work have been held in at the Fine Arts Museum of Boston, which has the largest collection of Japanese art outside of Japan, in Berlin's Martin-Gropius-Bau and most recently at the British Museum.
Until the middle of the 19th century, Japan's policy of sakoku closed Japan off from outsiders. Foreigners were not allowed to enter Japan at the time, and Japanese citizens couldn't exit the country, on penalty of death. Hokusai died in 1849, the very year before the lifting of sakoku--he didn't live to see the opening of Japan, the huge popularity of Japanese art in the west or his personal influence on western art.
The Exposition Universelle, including the Japanese Pavilion, opened on April 1, 1867. For the first time, this newly opened Japan participated in the world's fair spectacle. The huge and beautiful Japanese pavilion showcased ukiyo-e prints to the French public for the first time. Shortly after his visit to the pavilion, Monet bought over two hundred Japanese prints, including twenty-three by Hokusai. He hung them in his house in Giverny where some can still be seen in the house museum today. Monet's multiple series of bridges, haystacks, the Rouen Cathedral and were inspired by Hokusai's series "Thirty-six Views of Mount Fuji." Monet created his garden, including the pond and the bridge, in Giverny based on a Japanese print.
Hokusai's, and the work of his contemporary Hiroshige's, woodblock prints presented at the Exposition Universelle made a deep impression on 19th-century Western consciousness. Japan's new and novel openness offered westerners the opportunity to see and purchase this art for the first time. The influence on the work of the Impressionist artists is easy to identify. Monet, Van Gogh, Cassatt--the Impressionists painters--collected Japanese art and took up its themes, compositions, and use of color. Without Hokusai, Impressionist art would have looked much different.
Hokusai's use of flat washes color, especially Prussian blue, and the technique of delineating space with the use of line, rather than one-point perspective, was for the French, revolutionary. Ukiyo-e's kimonos influenced Edouard Manet's paintings by his use of patterns in wallpapers and rugs. The flat colors of Japanese woodblock prints are seen in Whistler's large swaths of solid colors. Van Gogh collected Japanese prints and painted copies in oil. Degas and Cassatt were inspired by the fleeting, everyday moments celebrated in the Japanese works. Edgar Degas would draw on the Japanese prints for inspiration for his paintings of entertainers, women bathing and scenes of daily life —subjects often used by Hokusai.
Ukiyo-e's lack of perspective and smooth colors influenced graphic artists and poster designers at the turn of the century. Toulouse-Lautrec's lithographs showed a Japanese influence in his use of solid areas of color and outlined figures. He imitated the Japanese seals used to sign woodblock prints by using a stylized version of his initials in a red circle for signing his work. But aside from style, the bigger influence of the ukiyo-e prints for Lautrec, like Degas, was the revelation that louche life—late night scenes, the dark corners of restaurants and prostitutes could be the subject of art.
Gauguin, Monet, Bonnard, and Vuillard were also influenced by the woodblock prints. Picasso and Rodin both created their versions of The Dream of the Fisherman's Wife. Picasso painted his in 1903. A copy of Hokusai's original is often displayed next to Picasso's version to demonstrate the influence of Japanese art on these early 20th century artists. The architect Frank Lloyd Wright was also a ukiyo-e collector.
Along with the retrospectives of Hokusai's art at world-class museums around the world, Hokusai's wave of influence and popularity are felt in other ways. The Dream of the Fisherman's Wife continues to be referenced in art and pop culture today; an oversized print was featured on two episodes of the TV series Mad Men.
The creative technique Hokusai popularized, the ukiyo-e woodblock print technique, lives on as well. This art form's style can be seen currently in Manga, street art, and tattoos. Hokusai's work including The Dream of the Fisherman's Wife is still as popular as when Mary Cassatt encouraged her friend Berthe Morisot to visit the artwork in the Japanese pavilion at the Exposition Universelle in Paris in 1867, writing to her in a letter: "Seriously, you must not miss it."
Hokusai worked from 1774 when he was 14 until he died at the age of 87. He said prior to his death, "If only heaven will give me just another ten years…just another five more years, then I could become a real painter."
© 1st-Art-Gallery.com 2003 - 2023 - All Rights Reserved, original content, do not copy without permission.
Real Oil Paints, Real Brushes, Real Artists, Real Art. The Certificate of Authenticity which arrives with every painting provides an assurance and verifies the authenticity of the hand painted fine art reproduction you purchased. Each oil painting is created by hand using only the finest canvas and oil paints available.
Important Notes About Your Painting:

If you have any request to alter your reproduction of Dream of the Fisherman's Wife, you must email us after placing your order and we'll have an artist contact you. If you have another image of Dream of the Fisherman's Wife that you would like the artist to work from, please include it as an attachment. Otherwise, we will reproduce the above image for you exactly as it is.
Ordered without a frame, it will be delivered in protective tube within 21-28 business days.
When ordering the painting framed - allow additional 5-7 days for delivery. The painting will arrive ready to hang.
Every painting is painted by an experienced artist.
No printing or digital imaging techniques are used.
100% hand painted oil painting on artist grade canvas.
Painting comes with a Certificate of Authenticity.
365 days Money Back Guarantee.
Enjoy Free Express Shipping.
Hand crafted means unique to every owner. Each canvas reproduction may vary slightly in brush details due to the nature of being hand painted, so no two paintings are the same.
For those customers who appreciate quality and want to own an artist's work as it was meant to be enjoyed we are here for you.
Free shipping is included in the price of the painting. Once the painting is ready and dry enough to ship, we will roll it and ship it in a sturdy cardboard tube.
We always ship express via courier to ensure your order reaches you as soon as possible - normally within three business days. The total delivery time from the moment you place your order until the package is delivered to your door is normally between three to four weeks.
If, in the unlikely event you were dissatisfied with the painting after reviewing it in person, it can be returned for a full refund for up to 365 days after delivery.
When you receive the painting; you are free to return it for more revisions or else for a full refund minus our actual shipping cost -- which is, on average, $35 per painting.
1st Art Gallery provides a full warranty covering manufacturing and material defects for paintings purchased from our website. The warranty covers damage for normal use. Damage caused by incidents such as accidents or inappropriate use are not covered.
Depending on the degree of damage to the warranted painting, it will either be repaired or replaced. This warranty service is provided free of charge.
Watch this video: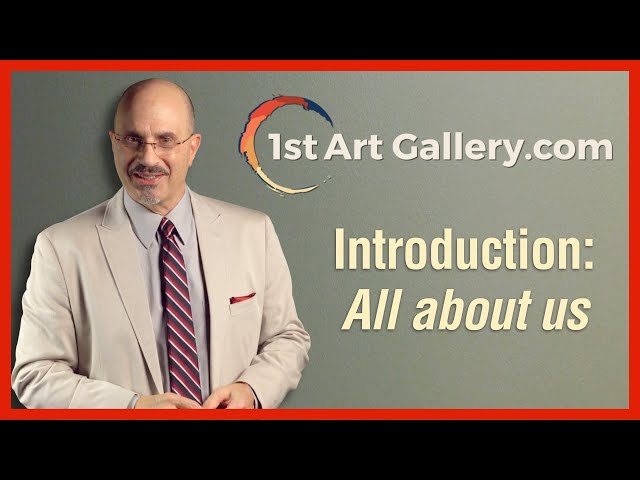 Reproductions Frequently Asked Questions
Yes, our reproductions of Dream of the Fisherman's Wife are meticulously hand-painted by our skilled artists on canvas. Starting with a sketch, the artist adds all the details and colors, layer by layer, following the original brushstroke style. We are dedicated to creating only 100% handmade oil painting reproductions to ensure a faithful and museum-quality replica of Dream of the Fisherman's Wife, as originally created by Katsushika Hokusai.

Famous works of art have been photographed numerous times, resulting in multiple images of the same painting with slightly different colors. By default, our artists will reference the image displayed on this page. However, we offer the flexibility for you to provide an alternative image of the same painting to ensure your reproduction is precisely as you'd like it. If you prefer a specific image different from the one on this page, please email it to us. To provide an alternative image, place the order and reply to the order confirmation email (which you will receive after the payment is complete) with the image attached. If you have any questions regarding this topic, please don't hesitate to contact us.

Once we have completed your Dream of the Fisherman's Wife reproduction, we will promptly send you a high-quality image of the finished painting by email. This allows you to thoroughly review the artwork, provide feedback, or request modifications. We want to ensure your complete satisfaction, so we will not ship your Dream of the Fisherman's Wife reproduction until you are 100% satisfied with it. This process ensures that you can place an order with confidence and receive the final artwork according to your preferences.

For a short but comprehensive video about our Stretching and Framing services, watch this video.

We offer a variety of options for framing and stretching your artwork. If no option is selected, the painting will be shipped rolled in a heavy-duty tube, with extra blank canvas on all sides, allowing for easy framing or stretching locally. Please note that stretching and framing services are available up to certain sizes, as very large stretched or framed paintings may be damaged during shipping. For larger paintings, we recommend framing them locally.

If you select the stretched option, your reproduction of Dream of the Fisherman's Wife will be stretched over a timber frame and arrive ready to hang straight on the wall. The width of the bars will be about 0.5 inches / 1.5 cm. Stretching is usually done in preparation for framing the painting, that is, sliding the stretched painting into a wooden frame. If you wish to hang the painting without a frame, we recommend selecting the Gallery Wrap service.

If you select the Gallery Wrap service, the wooden bars will be thicker, and the sides of the canvas will be painted as well, extending the painting out to the sides. Your reproduction of Dream of the Fisherman's Wife will arrive ready to hang straight on the wall without needing a frame.

Lastly, if you choose to order your artwork framed, we offer various framing models. You can find the available options on this page, located just below the image of the painting itself.

Our largest option is 95 inches (240 centimeters) on one side and an unlimited length on the other.

You can receive special offers and discounts by subscribing to our newsletter. To subscribe, please scroll to the bottom part of this page and fill out the form.

Your Dream of the Fisherman's Wife reproduction will ship via FedEx, UPS or DHL and will be delivered to your door anywhere in the world. We will provide you with the tracking number as soon as the package ships. For safety purposes, please ensure that we have your correct and complete shipping address and phone number. These details will only be used for shipping purposes.

The delivery time is typically between 14-28 business days, depending on the complexity of the painting, its size, and the destination. If you require faster delivery of your Dream of the Fisherman's Wife replica, we offer an expedited process for an additional fee. To discuss this option, please contact us.
Our paintings are 100% handmade by an experienced artist
Each painting is custom made and won't ship until it meets
the highest degree of quality control
Experienced Artists
All our artists have at least 15 years of experience. We only hire qualified artists with advanced degrees in Fine Arts who have completed a dissertation in European or American art.
Highest Quality Materials
We only use the highest quality oil paint and finest available canvas. We insist on sourcing our materials from brands that have been in business for at least a century or more.
Quality Control
Our most senior artists, those who have at least 25 years experience, carefully examine each and every painting that comes out of our studio. No order is shipped before it meets our standards, which are the highest in the industry.
Always Hand Painted
Some companies claim to be selling handmade paintings when in fact they use printing presses and screening methods to speed-up the reproduction process and lower costs. We've been selling genuine handmade online since 2003!
Finest quality stretching, gallery wrap or framing
Purchasing without a frame
(unstreched canvas)
When purchasing a painting on its own, it will arrive rolled inside a secure tube with an extra 1.5" of white canvas on all sides so you can easily frame it in any local frame shop.
Purchasing a frame
You may choose to purchase your painting framed, in which case, it will arrive "ready to hang". We offer more than 20 beautiful models, all hand finished and expertly assembled by our experienced framers.
Note that for safety reasons we can only frame up to a certain size. Once the maximum size is reached the framing option is automatically disabled.
Purchasing a Stretching Service
If you are planning to frame your painting yourself, use an existing frame, or frame it locally, you may choose to order your painting with a stretching service, meaning that it will arrive mounted on wooden bars.
Purchasing a Gallery Wrap
If you're considering not framing your painting at all, you may opt for a Gallery Wrap. The term Gallery Wrap refers to the way the canvas is stretched, which is by wrapping it around thick stretcher bars, about 1.5 inch thick, with the canvas being secured to the back rather than the sides of those bars.
Door to door fully insured courier delivery
All orders ship with UPS, FedEx or DHL and will arrive directly to your home or office. A tracking number will be emailed to you as soon as the order leaves our studio so you can track it online. All orders ship express and usually arrive within 4-5 days from the shipping date. Due to shipping restraints, many of our framed, stretched, and oversize paintings may take 6-21 days for arrival depending on the safest route determined by the postal service.
Unframed paintings are covered with a special protective film, are gently rolled and then placed inside a strong specially designed tube.
Stretched, Gallery Wrapped and Framed paintings are covered with protective bubble wrap, separated by foam board and then carefully put into the cardboard box.