Watch video
NOTE: The Watermark will not show on the actual painting.
Painting close-ups, our actual reproduction:
Unframed
Arrives rolled (Can easily be stretched or framed locally)
Arrives Framed
(Arrives ready to hang, or framed locally)
FRAMING INFORMATION
1st Art Gallery offers the option to receive your painting ready to hang or rolled in a tube.
Currently, for safety, we're able to ship framed paintings only up to a certain size. Once the maximum size is reached, the framing option is automatically disabled.
However, if you are interested in stretching or framing a painting larger than 24x36 inches (60x90 cm), please contact one of our customer success associates or let us know in your order notes. We will send you a catalog of our large framing styles and pricing options.
Unframed rolled canvas orders will arrive rolled inside a protective tube with an extra 1.5" white canvas on all sides so you can easily frame it locally.
Watch this unboxing video from one of our happy clients:
922
In the central section of the masterwork painted in the ceiling of the Sistine Chapel, Michelangelo painted with mastery three scenes from the Genesis chapters from the Holy Bible. Il Divino, a nickname earned by the grandmaster because of the frescoes he painted in the holy site, illustrated the creation of Adam and Eve.
This work depicts their later expulsion from paradise after they assaulted the tree of knowledge with vivid colors and very detailed shading, inspiring the feeling of awe in the chapel visitors. Between the three scenes, there are sets of two nude angels on each side, acting as a frame separating the scenes.
In the bottom, one of the most iconic and replicated paintings of all ages, the moment that God imbues Adam with the divine spark. With their fingers barely touching, God is represented as an elder with a long beard and a serious expression, surrounded by a red cape and embracing Eve with his left arm. Accompanying the Holy Father, twelve nude characters are depicted inside the cape, supporting God's actions. On top of a rock, lies Adam, weak and limp, looking at God and gathering all his strength to reach the divine.
The scene in the middle shows the moment that God takes one rib from Adam's side, who is sleeping, bringing to life the perfect wife, Eve. Portrayed with a robust constitution, one of Michelangelo's trademark, Adam's wife is in a humble position, with both of her arms raised and begging for her Father's wisdom. God is using a royal purple cloak, above a red gown. He touches the grass with his feet, barefoot, and with one hand raised, he grants Eve his grace and love.
In the last scene, on the top of the painting, Michelangelo depicts the moment that Adam and Eve are caught stealing an apple from the tree of knowledge, which leads them to be expelled from the Garden of Eden. In reference to Lilith, a snake is wrapping the tree, with feminine features, enticing the couple to steal from the tree and giving an apple to Eve. Adam holds down a branch of the tree, helping and agreeing with the theft. On a side scene, an angel, dressed in a red robe, is shown threatening Adam with a sword, pushing him and his wife to leave the holy site.
© 1st-Art-Gallery.com 2003 - 2023 - All Rights Reserved, original content, do not copy without permission.
Real Oil Paints, Real Brushes, Real Artists, Real Art. The Certificate of Authenticity which arrives with every painting provides an assurance and verifies the authenticity of the hand painted fine art reproduction you purchased. Each oil painting is created by hand using only the finest canvas and oil paints available.
Important Notes About Your Painting:

If you have any request to alter your reproduction of Scenes from Genesis, you must email us after placing your order and we'll have an artist contact you. If you have another image of Scenes from Genesis that you would like the artist to work from, please include it as an attachment. Otherwise, we will reproduce the above image for you exactly as it is.
Ordered without a frame, it will be delivered in protective tube within 21-28 business days.
When ordering the painting framed - allow additional 5-7 days for delivery. The painting will arrive ready to hang.
Every painting is painted by an experienced artist.
No printing or digital imaging techniques are used.
100% hand painted oil painting on artist grade canvas.
Painting comes with a Certificate of Authenticity.
365 days Money Back Guarantee.
Enjoy Free Express Shipping.
Hand crafted means unique to every owner. Each canvas reproduction may vary slightly in brush details due to the nature of being hand painted, so no two paintings are the same.
For those customers who appreciate quality and want to own an artist's work as it was meant to be enjoyed we are here for you.
Free shipping is included in the price of the painting. Once the painting is ready and dry enough to ship, we will roll it and ship it in a sturdy cardboard tube.
We always ship express via courier to ensure your order reaches you as soon as possible - normally within three business days. The total delivery time from the moment you place your order until the package is delivered to your door is normally between three to four weeks.
If, in the unlikely event you were dissatisfied with the painting after reviewing it in person, it can be returned for a full refund for up to 365 days after delivery.
When you receive the painting; you are free to return it for more revisions or else for a full refund minus our actual shipping cost -- which is, on average, $35 per painting.
1st Art Gallery provides a full warranty covering manufacturing and material defects for paintings purchased from our website. The warranty covers damage for normal use. Damage caused by incidents such as accidents or inappropriate use are not covered.
Depending on the degree of damage to the warranted painting, it will either be repaired or replaced. This warranty service is provided free of charge.
Watch this video: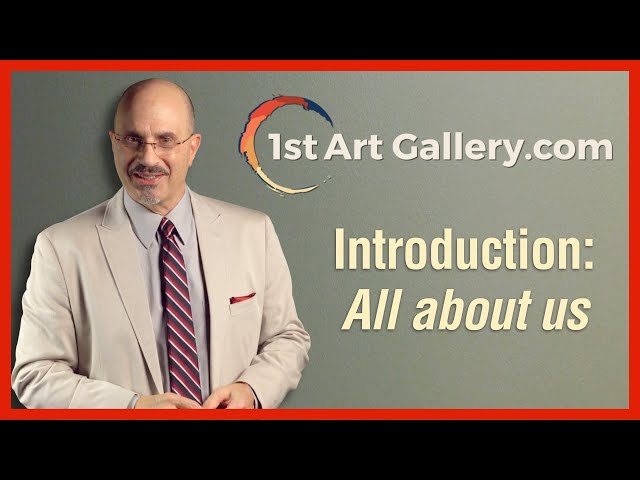 Reproductions Frequently Asked Questions
Yes, our reproductions of Scenes from Genesis are meticulously hand-painted by our skilled artists on canvas. Starting with a sketch, the artist adds all the details and colors, layer by layer, following the original brushstroke style. We are dedicated to creating only 100% handmade oil painting reproductions to ensure a faithful and museum-quality replica of Scenes from Genesis, as originally created by Michelangelo Buonarroti.

Famous works of art have been photographed numerous times, resulting in multiple images of the same painting with slightly different colors. By default, our artists will reference the image displayed on this page. However, we offer the flexibility for you to provide an alternative image of the same painting to ensure your reproduction is precisely as you'd like it. If you prefer a specific image different from the one on this page, please email it to us. To provide an alternative image, place the order and reply to the order confirmation email (which you will receive after the payment is complete) with the image attached. If you have any questions regarding this topic, please don't hesitate to contact us.

Once we have completed your Scenes from Genesis reproduction, we will promptly send you a high-quality image of the finished painting by email. This allows you to thoroughly review the artwork, provide feedback, or request modifications. We want to ensure your complete satisfaction, so we will not ship your Scenes from Genesis reproduction until you are 100% satisfied with it. This process ensures that you can place an order with confidence and receive the final artwork according to your preferences.

For a short but comprehensive video about our Stretching and Framing services, watch this video.

We offer a variety of options for framing and stretching your artwork. If no option is selected, the painting will be shipped rolled in a heavy-duty tube, with extra blank canvas on all sides, allowing for easy framing or stretching locally. Please note that stretching and framing services are available up to certain sizes, as very large stretched or framed paintings may be damaged during shipping. For larger paintings, we recommend framing them locally.

If you select the stretched option, your reproduction of Scenes from Genesis will be stretched over a timber frame and arrive ready to hang straight on the wall. The width of the bars will be about 0.5 inches / 1.5 cm. Stretching is usually done in preparation for framing the painting, that is, sliding the stretched painting into a wooden frame. If you wish to hang the painting without a frame, we recommend selecting the Gallery Wrap service.

If you select the Gallery Wrap service, the wooden bars will be thicker, and the sides of the canvas will be painted as well, extending the painting out to the sides. Your reproduction of Scenes from Genesis will arrive ready to hang straight on the wall without needing a frame.

Lastly, if you choose to order your artwork framed, we offer various framing models. You can find the available options on this page, located just below the image of the painting itself.

Our largest option is 95 inches (240 centimeters) on one side and an unlimited length on the other.

You can receive special offers and discounts by subscribing to our newsletter. To subscribe, please scroll to the bottom part of this page and fill out the form.

Your Scenes from Genesis reproduction will ship via FedEx, UPS or DHL and will be delivered to your door anywhere in the world. We will provide you with the tracking number as soon as the package ships. For safety purposes, please ensure that we have your correct and complete shipping address and phone number. These details will only be used for shipping purposes.

The delivery time is typically between 14-28 business days, depending on the complexity of the painting, its size, and the destination. If you require faster delivery of your Scenes from Genesis replica, we offer an expedited process for an additional fee. To discuss this option, please contact us.
Our paintings are 100% handmade by an experienced artist
Each painting is custom made and won't ship until it meets
the highest degree of quality control
Experienced Artists
All our artists have at least 15 years of experience. We only hire qualified artists with advanced degrees in Fine Arts who have completed a dissertation in European or American art.
Highest Quality Materials
We only use the highest quality oil paint and finest available canvas. We insist on sourcing our materials from brands that have been in business for at least a century or more.
Quality Control
Our most senior artists, those who have at least 25 years experience, carefully examine each and every painting that comes out of our studio. No order is shipped before it meets our standards, which are the highest in the industry.
Always Hand Painted
Some companies claim to be selling handmade paintings when in fact they use printing presses and screening methods to speed-up the reproduction process and lower costs. We've been selling genuine handmade online since 2003!
Finest quality stretching, gallery wrap or framing
Purchasing without a frame
(unstreched canvas)
When purchasing a painting on its own, it will arrive rolled inside a secure tube with an extra 1.5" of white canvas on all sides so you can easily frame it in any local frame shop.
Purchasing a frame
You may choose to purchase your painting framed, in which case, it will arrive "ready to hang". We offer more than 20 beautiful models, all hand finished and expertly assembled by our experienced framers.
Note that for safety reasons we can only frame up to a certain size. Once the maximum size is reached the framing option is automatically disabled.
Purchasing a Stretching Service
If you are planning to frame your painting yourself, use an existing frame, or frame it locally, you may choose to order your painting with a stretching service, meaning that it will arrive mounted on wooden bars.
Purchasing a Gallery Wrap
If you're considering not framing your painting at all, you may opt for a Gallery Wrap. The term Gallery Wrap refers to the way the canvas is stretched, which is by wrapping it around thick stretcher bars, about 1.5 inch thick, with the canvas being secured to the back rather than the sides of those bars.
Door to door fully insured courier delivery
All orders ship with UPS, FedEx or DHL and will arrive directly to your home or office. A tracking number will be emailed to you as soon as the order leaves our studio so you can track it online. All orders ship express and usually arrive within 4-5 days from the shipping date. Due to shipping restraints, many of our framed, stretched, and oversize paintings may take 6-21 days for arrival depending on the safest route determined by the postal service.
Unframed paintings are covered with a special protective film, are gently rolled and then placed inside a strong specially designed tube.
Stretched, Gallery Wrapped and Framed paintings are covered with protective bubble wrap, separated by foam board and then carefully put into the cardboard box.