Watch video
NOTE: The Watermark will not show on the actual painting.
Click for examples of textured paintings:
Unframed
Arrives rolled (Can easily be stretched or framed locally)
Arrives Framed
(Arrives ready to hang, or framed locally)
FRAMING INFORMATION
1st Art Gallery offers the option to receive your painting ready to hang or rolled in a tube.
Currently, for safety, we're able to ship framed paintings only up to a certain size. Once the maximum size is reached, the framing option is automatically disabled.
However, if you are interested in stretching or framing a painting larger than 24x36 inches (60x90 cm), please contact one of our customer success associates or let us know in your order notes. We will send you a catalog of our large framing styles and pricing options.
Unframed rolled canvas orders will arrive rolled inside a protective tube with an extra 1.5" white canvas on all sides so you can easily frame it locally.
Watch this unboxing video from one of our happy clients:
711
Renoir's Luncheon of the Boating Party dazzles as the work of both an artist and an artistic movement at its peak. In the painting, we see Renoir's friends—artists, actors, diplomats, and merchants--together in a new less stratified way that defines the new "bourgeoisie." Tout de Paris shares fruit and nuts, champagne, red and white wine on a water-view balcony at the restaurant Maison Fournaise. Renoir moves from city scenes like Le Pont Neuf Paris and portraits like Jeanne Samury to the Paris suburb of Chatou, a thirty-minute train ride out of the city. Renoir was a regular at the guest house, boat rental and restaurant that overlooks the Seine. He depicted scenes taking place at Maison Fournaise in at least thirty different works, including Lunch at the Restaurant Fournaise and Alphonsine Fournaise on the Isle of Chatou.
Some art historians believe that Renoir created the painting in response to writer and critic Emile Zola's challenge that the Impressionists didn't paint works that were complete, detailed and contained the logic of classical painting. Also, Edgar Degas had started bringing new, younger artists into the Impressionist group; Renoir may have intentionally created a stunning showstopper to prove himself as one of the masters of the movement.
The painting, which Renoir called Le dejeuner des canotiers was painted over a period of six months in 1881 and is a large-scale work: 130 centimeters by 175 centimeters—over four feet by almost six feet. Renoir brought each person to the site to do individual portraits to capture the light and facial details as only he knew how.
Looking at the composition overall, Renoir clearly divides the piece into quarters vertically. The awning support rail divides the painting in half vertically, another awning support rail divides the left side of the painting vertically again, and finally, the green of the hedge divides the right side. A strong diagonal is created across the canvas, most clearly delineated by the balustrade the hatted man and woman lean against. This positive upward angle takes the eye from the lower left corner all the way to the upper right. This use of angles brings a classical stability to the composition—this is what Emil Zola was talking about. Not every painter of the day could combine this classical use of space with the loose brushwork Renoir brings to the canvas. Restorers tell us that one of the last elements added into the composition, which Renoir painted without preliminary sketches, is the striped awning. The awning is crucial to the piece, tying the arrangement together and giving the setting a cozy intimacy in which the viewer is made to feel a part.
The cast of characters who appear in Luncheon of the Boating Party includes Renoir's future wife, mother of his three sons and frequent painters' model, Aline Charigot. Fourteen figures animate the canvas, Aline and her puppy preside over the entire lower left corner, her dark dress and bright colors stabilize the composition. The only other two people on the entire right side of the canvas are Alphonse and Alphonsine, both named after their father, the owner of the Maison Fournaise.
Three celebrities make appearances, including actress Ellen Andrée who sits at the very center of the painting. "She is in the painting, yet outside," says the painter character who copies Luncheon of the Boating Party for more than twenty years in the movie Amélie. More than one hundred years later, the woman in the painting will inspire the character of Amélie; her look, the short bangs and pouty mouth.
In Luncheon of the Boating Party, Renoir masterfully combines his love of figures, portraits and bright colors with that constant Impressionist sources of inspiration: light and the fleeting moments of modern life. The edges of the bottles gleam, skin glows, and the viewer can almost take part in the conversations. Renoir moves away from the super soft brushstrokes of his other large-scale work Dance at the Le Moulin de la Galette. Here he combines his abilities as both an Impressionist and a classical painter by using loose brushwork in some areas, and in other areas defining edges, creating contours and overlapping the figures to give the painting depth and a classically beautiful sense of dimensionality.
Pierre Auguste Renoir was born in Limoges, France in 1841. Looking to improve their financial situation his family moved to Paris to an apartment near the Louvre. As a boy, he attended a local Catholic school and took free drawing classes at a city-sponsored art school. Although he was a good student, Renoir left school at the age of thirteen. Knowing he was good at drawing and painting, he helped his family by apprenticing at a porcelain factory, then later painting decorative hangings and decorative fans.
In 1892 he began studying at Charles Gleyre's art studio where the only fees were the cost of the materials and payment of the models. Even these small requests for contributions were more than Renoir had, and he often depended on other students to help him out. Other students of Gleyre included Jean-Leon Gerome, James Whistler and several of Renoir's soon-to-be cohort in Impressionism: Alfred Sisley, Frederic Bazille, and Claude Monet. Gleyre once said to the young Renoir, "Are you painting just to amuse yourself?" and Renoir is reported to have said, "Why else would I paint?" He did not love the studio, but it was the only one he could remotely afford. He visited the Louvre frequently studying and making copies of the great paintings, becoming familiar with many of the artists and paintings in the collection.
At the Louvre, Renoir probably spent time in front of The Marriage Feast at Cana, Paolo Veronese's grand banquet scene, painted in 1652. Both Veronese's scene and Luncheon are alive with characters Both paintings depict a table surrounded by guests in which the table almost reaches out to the viewer. Like most everyone else during his time, Renoir was a fan of Watteau's Embarkation for Cythera, painted in 1717. The painting's Rococo mood was very popular at the time, and Watteau's fetes gallants—celebrations, picnics, and boating parties--can be seen as part of Renoir's artistic lineage.
Monet, Bazille, Sisley, and Renoir frequently painted together, venturing out to the forest of Fontainbleu for sessions en plein air. Monet and Renoir painted side by side for two months in 1869 at La Grenouillere. There they used large, loose brushwork to capture the light on the water, the bobbing boats, and the movement of the people on the docks. Thick impasto and vivid colors, hallmarks of the Impressionism style, display the innovative experiments these artists explored at that particular place and time.
Renoir had his first painting accepted by the Paris Salon in 1864, La Esmeralda, inspired by Victor Hugo's story Notre Dame de Paris. He then suffered rejection after rejection from the Salon for at least six years. He sought out commissions and depended on friends to survive. In his early years, he seemed to have no permanent home or studio address. Aware of the strict requirements of the Salon, he painted portraits with invisible brushwork and realistic coloring, using Gustave Courbet as inspiration. With Portrait of Lise with a Parasol, exhibited in 1867, he finally had his first real success.
In 1870 he was drafted into the army and assigned to the cavalry unit. He became ill and was exempted from the action, unlike his painter-friend and cohort from Gleyre's studio, Bazille, who was killed. After the war, he made his way back to Paris and started the work of restarting his painting career.
Unhappy with his slow road to a successful life as a painter using the traditional route of the Salon, Renoir joined forces with Monet, Sisley, Pissarro and Mary Cassatt to exhibit through a private gallery. In 1874 he exhibited six paintings in the first Independent Gallery—a radical idea at the time when only dead artists were exhibited outside the Salon. The only cost of exhibiting in these early independent shows was contributing towards renting the gallery space. The first show was a mixed success. Panned by the critics who didn't know what to think of these "Impressions" of paintings, the independent shows achieved something more important than critical success: notoriety. At the same time as the first independent show, two of Renoir's works were represented by the well-known art dealer Durand-Ruel. Renoir simultaneously followed two avenues to success: the traditional and the unconventional, hoping if the independent gallery shows didn't work out, finding clients via the Salon and traditional art representatives would.
To make money, Renoir took on portrait commissions, and his modern style attracted the attention and patronage of clients with modern sensibilities. In the Independent Gallery show in 1876, he exhibited only his portraits. By the next year, his subject matter had become more diverse and was placed exactly in the world of the Impressionists: Dance at Moulin de la Galette and The Swing. Although one of the founding members of the Impressionist movement, after this 1877 show, he no longer exhibited with the group. With the success of Madame Charpentier and her Children shown in the Salon of 1879—fifteen years after his first painting had been accepted—he had finally become a sought-after Salon-approved painter. Luncheon of the Boating Party was painted two years later.
With success came financial freedom; he now had the means to travel. He painted as he went, working in Venice, Naples, and Sorrento, recording his views of the areas with the distinctive parallel brushstrokes he favored at the time. On the trip, he visited Algeria, Madrid (to see Velazquez's works), Florence, Rome, Palermo, and finally a summer in Guernsey, where he painted fifteen landscapes, including Hills around the Bay of Moulin Huet, Guernsey. Back in Paris he lived and worked in Montmartre, where he married long-time girlfriend Aline Charigot, who we see in the lower left of Luncheon of the Boating Party.
His trip to Italy, where he saw the works of Raphael, and other Renaissance masters had convinced him that he should return to classic, academic techniques and the "grandeur and simplicity of the ancient painters." Paintings made after this trip like Reclining Nude show a return to a more academic style and the influence of the great masters. The series of large sculpture-like nudes in undefined landscapes culminates in Large Bathers. Then after 1890, he changed direction again.
In 1886, the French government invited him to create a painting for the Musée du Luxembourg, where the first national exhibition of Impressionists works took place. Pissarro, Manet, Cezanne, Sisley, Monet, and Renoir all contributed works. Renoir painted five versions of Girls at the Piano and asked the Minister of Fine Arts to choose one for the exhibition. From this period on, he embraced a looser more Impressionistic style once again: outlines dissolve into the setting, the brushwork is visible and the colors vivid. However, he uses the classical modeling of the figures, giving them dimension in the Impressionistic setting and background.
As was noted in the exhibition catalog at the time of the 1988 exhibition, Renoir Retrospective, "Flowers frequently appear in his paintings as hat decorations or as part of the landscape behind figures even when they are not the main motif. Renoir himself said that when painting flowers, he was able to paint more freely and boldly." The flowers on Aline's hat in Luncheon of the Boating Party add a touch of vermillion giving the painting a focus and a departure point.
By being part of the traditional Salon and the group of Impressionists, Renoir took two paths to success. He also took two paths in his artwork, innovative light-capturing Impressionism, and traditional, classical painting. With Luncheon of the Boating Party Renoir combines both his talents and fuses the styles, exploring and embracing the challenges of painting during an artistic revolution.
As a crossover artist who exhibited paintings in both the Salon des Arts and the Impressionist exhibitions, Renoir had intended Luncheon of the Boating Party as a submission for the official Salon. However his biggest supporter and patron, collector Paul Durand-Ruel bought the painting and displayed it at the 7th Impressionist Exhibition, against the artist's wishes. Three critics who reviewed the show considered Luncheon of the Boating Party to be the best painting of the 1882 exhibition.
Having become world famous, Renoir continued to paint until his last days, suffering from arthritis in his hands so badly he sometimes needed help adjusting the position of the paintbrush he was holding. Towards the end of his life, he visited the Louvre, where as a boy he had made copies of the masters, to see his paintings hanging among the other great works.
The setting of Luncheon of the Boating Party, Maison Fournaise, opened in 1860 and closed in 1906. In the 1990s the townspeople of Chatou received support for a restoration project, and guests can once again relax on the balcony and enjoy a glass of champagne, visit an exhibit that explores Renoir and other artists' work inspired by the location, and admire the light that Renoir lovingly recreated.
When Renoir's devoted patron Paul Durand-Ruel died in 1922, his sons sold off some of his immense collection. American art collector Duncan Phillips spent his entire art-buying budget for the year on Luncheon of the Boating Party, paying $125,000. He considered the work not only the best painting in his esteemed collection of modern art but one of the most famous paintings in the world. Luncheon of the Boating Party is now part of the collection at The Phillip's Collection in Washington, D.C., where it is the modern art museum's most famous and popular work.
Fellow art collector Albert Barnes was once to have said to Phillips, "That's the only Renoir you have, isn't it?" To which Phillips replied, "It's the only one I need."
© 1st-Art-Gallery.com 2003 - 2023 - All Rights Reserved, original content, do not copy without permission.
Real Oil Paints, Real Brushes, Real Artists, Real Art. The Certificate of Authenticity which arrives with every painting provides an assurance and verifies the authenticity of the hand painted fine art reproduction you purchased. Each oil painting is created by hand using only the finest canvas and oil paints available.
Important Notes About Your Painting:

If you have any request to alter your reproduction of Luncheon of the Boating Party 2, you must email us after placing your order and we'll have an artist contact you. If you have another image of Luncheon of the Boating Party 2 that you would like the artist to work from, please include it as an attachment. Otherwise, we will reproduce the above image for you exactly as it is.
Ordered without a frame, it will be delivered in protective tube within 21-28 business days.
When ordering the painting framed - allow additional 5-7 days for delivery. The painting will arrive ready to hang.
Every painting is painted by an experienced artist.
No printing or digital imaging techniques are used.
100% hand painted oil painting on artist grade canvas.
Painting comes with a Certificate of Authenticity.
365 days Money Back Guarantee.
Enjoy Free Express Shipping.
Hand crafted means unique to every owner. Each canvas reproduction may vary slightly in brush details due to the nature of being hand painted, so no two paintings are the same.
For those customers who appreciate quality and want to own an artist's work as it was meant to be enjoyed we are here for you.
Free shipping is included in the price of the painting. Once the painting is ready and dry enough to ship, we will roll it and ship it in a sturdy cardboard tube.
We always ship express via courier to ensure your order reaches you as soon as possible - normally within three business days. The total delivery time from the moment you place your order until the package is delivered to your door is normally between three to four weeks.
If, in the unlikely event you were dissatisfied with the painting after reviewing it in person, it can be returned for a full refund for up to 365 days after delivery.
When you receive the painting; you are free to return it for more revisions or else for a full refund minus our actual shipping cost -- which is, on average, $35 per painting.
1st Art Gallery provides a full warranty covering manufacturing and material defects for paintings purchased from our website. The warranty covers damage for normal use. Damage caused by incidents such as accidents or inappropriate use are not covered.
Depending on the degree of damage to the warranted painting, it will either be repaired or replaced. This warranty service is provided free of charge.
Watch this video: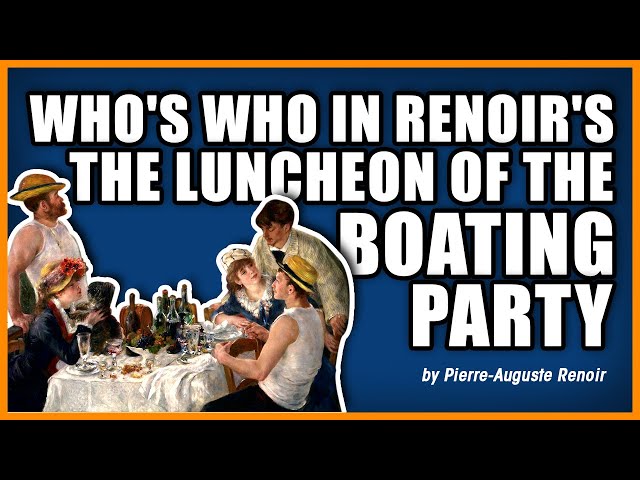 Reproductions Frequently Asked Questions
Yes, our reproductions of Luncheon of the Boating Party 2 are meticulously hand-painted by our skilled artists on canvas. Starting with a sketch, the artist adds all the details and colors, layer by layer, following the original brushstroke style. We are dedicated to creating only 100% handmade oil painting reproductions to ensure a faithful and museum-quality replica of Luncheon of the Boating Party 2, as originally created by Pierre Auguste Renoir.

Famous works of art have been photographed numerous times, resulting in multiple images of the same painting with slightly different colors. By default, our artists will reference the image displayed on this page. However, we offer the flexibility for you to provide an alternative image of the same painting to ensure your reproduction is precisely as you'd like it. If you prefer a specific image different from the one on this page, please email it to us. To provide an alternative image, place the order and reply to the order confirmation email (which you will receive after the payment is complete) with the image attached. If you have any questions regarding this topic, please don't hesitate to contact us.

Once we have completed your Luncheon of the Boating Party 2 reproduction, we will promptly send you a high-quality image of the finished painting by email. This allows you to thoroughly review the artwork, provide feedback, or request modifications. We want to ensure your complete satisfaction, so we will not ship your Luncheon of the Boating Party 2 reproduction until you are 100% satisfied with it. This process ensures that you can place an order with confidence and receive the final artwork according to your preferences.

For a short but comprehensive video about our Stretching and Framing services, watch this video.

We offer a variety of options for framing and stretching your artwork. If no option is selected, the painting will be shipped rolled in a heavy-duty tube, with extra blank canvas on all sides, allowing for easy framing or stretching locally. Please note that stretching and framing services are available up to certain sizes, as very large stretched or framed paintings may be damaged during shipping. For larger paintings, we recommend framing them locally.

If you select the stretched option, your reproduction of Luncheon of the Boating Party 2 will be stretched over a timber frame and arrive ready to hang straight on the wall. The width of the bars will be about 0.5 inches / 1.5 cm. Stretching is usually done in preparation for framing the painting, that is, sliding the stretched painting into a wooden frame. If you wish to hang the painting without a frame, we recommend selecting the Gallery Wrap service.

If you select the Gallery Wrap service, the wooden bars will be thicker, and the sides of the canvas will be painted as well, extending the painting out to the sides. Your reproduction of Luncheon of the Boating Party 2 will arrive ready to hang straight on the wall without needing a frame.

Lastly, if you choose to order your artwork framed, we offer various framing models. You can find the available options on this page, located just below the image of the painting itself.

Our largest option is 95 inches (240 centimeters) on one side and an unlimited length on the other.

You can receive special offers and discounts by subscribing to our newsletter. To subscribe, please scroll to the bottom part of this page and fill out the form.

Your Luncheon of the Boating Party 2 reproduction will ship via FedEx, UPS or DHL and will be delivered to your door anywhere in the world. We will provide you with the tracking number as soon as the package ships. For safety purposes, please ensure that we have your correct and complete shipping address and phone number. These details will only be used for shipping purposes.

The delivery time is typically between 14-28 business days, depending on the complexity of the painting, its size, and the destination. If you require faster delivery of your Luncheon of the Boating Party 2 replica, we offer an expedited process for an additional fee. To discuss this option, please contact us.
Our paintings are 100% handmade by an experienced artist
Each painting is custom made and won't ship until it meets
the highest degree of quality control
Experienced Artists
All our artists have at least 15 years of experience. We only hire qualified artists with advanced degrees in Fine Arts who have completed a dissertation in European or American art.
Highest Quality Materials
We only use the highest quality oil paint and finest available canvas. We insist on sourcing our materials from brands that have been in business for at least a century or more.
Quality Control
Our most senior artists, those who have at least 25 years experience, carefully examine each and every painting that comes out of our studio. No order is shipped before it meets our standards, which are the highest in the industry.
Always Hand Painted
Some companies claim to be selling handmade paintings when in fact they use printing presses and screening methods to speed-up the reproduction process and lower costs. We've been selling genuine handmade online since 2003!
Finest quality stretching, gallery wrap or framing
Purchasing without a frame
(unstreched canvas)
When purchasing a painting on its own, it will arrive rolled inside a secure tube with an extra 1.5" of white canvas on all sides so you can easily frame it in any local frame shop.
Purchasing a frame
You may choose to purchase your painting framed, in which case, it will arrive "ready to hang". We offer more than 20 beautiful models, all hand finished and expertly assembled by our experienced framers.
Note that for safety reasons we can only frame up to a certain size. Once the maximum size is reached the framing option is automatically disabled.
Purchasing a Stretching Service
If you are planning to frame your painting yourself, use an existing frame, or frame it locally, you may choose to order your painting with a stretching service, meaning that it will arrive mounted on wooden bars.
Purchasing a Gallery Wrap
If you're considering not framing your painting at all, you may opt for a Gallery Wrap. The term Gallery Wrap refers to the way the canvas is stretched, which is by wrapping it around thick stretcher bars, about 1.5 inch thick, with the canvas being secured to the back rather than the sides of those bars.
Door to door fully insured courier delivery
All orders ship with UPS, FedEx or DHL and will arrive directly to your home or office. A tracking number will be emailed to you as soon as the order leaves our studio so you can track it online. All orders ship express and usually arrive within 4-5 days from the shipping date. Due to shipping restraints, many of our framed, stretched, and oversize paintings may take 6-21 days for arrival depending on the safest route determined by the postal service.
Unframed paintings are covered with a special protective film, are gently rolled and then placed inside a strong specially designed tube.
Stretched, Gallery Wrapped and Framed paintings are covered with protective bubble wrap, separated by foam board and then carefully put into the cardboard box.